Our skilled dentist practices efficient and professional dental care with the latest dental technology, and our homey and welcoming office is sure to put you right at ease. Visit us today!
Steven Wolfson, DDS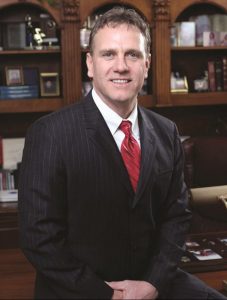 Dr. Steven Wolfson graduated from the University of Texas Health School of Dentistry with his DDS degree after completing his undergrad at the University of Houston. Today, he is one of the leading cosmetic and implant dentists in Houston, Texas, and provides world-class cosmetic, reconstructive and implant dentistry. Dr. Wolfson and his team strive to cater to the health and beauty of your smile in a warm and relaxing atmosphere. Because of his extensive experience, state-of-the-art equipment and friendly personality, Dr. Wolfson can take care of all your dental needs in a caring and personal manner.
Dr. Wolfson has received extensive skills and training in a variety of dental techniques. After completing his education, he participated in postgraduate training at the prestigious Las Vegas Institute for Aesthetic Dentistry, the Pankey Institute and the Baylor College of Dentistry Aesthetic Continuum. As a part of his profession today, Dr. Wolfson continues his education by attending seminars across the globe and learning about new, cutting-edge dental technology. With his skills and progressive tools, Dr. Wolfson has been able to get ahead of most other dentists in the country.
Dr. Steven Wolfson's family is just as important as his profession. With his strong foundation in family values, Dr. Wolfson provides a genuine and caring approach to dental care when treating his patients. He and his dedicated team work together to create the most comfortable and professional atmosphere.
Dr. Wolfson is a fellow of the Academy of General Dentistry, an honor that his bestowed to only five percent of dentists nationwide. In addition, he is the official dentist on The Learning Channel's "A Makeover Story."
Vivian Sagullo – Practice Manager
Vivian has been with our practice for over 22 years. She has a Bachelor of Science degree in medical technology and worked in a major hospital medical laboratory for more than 15 years, where she received management training. She has also completed several hours of continuing education in dental office management, dental terminologies, insurance claim filing, and dental procedure coding and laws from LVI and the Pankey Institute, and regularly attends dental meetings and conferences.
Vivian enjoys working with a dentist that stays on the cutting edge of technology and creates works of art in creating beautiful smiles. Her organizational skill makes the practice operate smoothly, and as a "people person" she helps develop great rapport with all our patients. In her free time, Vivian takes ballroom dancing and Zumba classes, and enjoys reading and gardening. She has two beautiful daughters, Angela and Lauren, and a gorgeous Dalmatian named Effy.
Ashley Garcia – Patient Care/Front Desk Coordinator
Ashley is a graduate of the College of Healthcare Professionals in dental assisting. She is also CPR-certified and has taken several hours of continuing education in dental terminologies, insurance claim filing, and dental procedure coding and laws. She has been with our practice since 2015, making sure every patient's visit is positive and comfortable. One of the things she looks forward to most every day is greeting patients as they arrive and building a rapport with them. Ashley is a great communicator and can address patient concerns in a calm, welcoming manner. She loves working with a team that truly cares about patients' needs and concerns. Outside the office, Ashley enjoys spending quality time outdoors with her husband and 2-year-old daughter.
Kevin Bach – Dental Hygienist
Kevin has a Bachelor of Science in dental hygiene and is a registered dental hygienist. He is also nitrous oxide-, laser-, CPR- and Invisalign®-certified, and has received training in Zoom whitening and VelScope® oral cancer screening. Kevin really represents our office to patients, making a great first impression. He values being part of a team that believes in the importance of helping patients attain a healthy mouth, enabling him in turn to better educate patients on their oral health. Kevin is married with three children, Ava, Kate and James, and enjoys gardening, fixing cars, house projects and sports.
Toni Burton – Dental Assistant I
Toni joined our team in 2005 and is a registered dental assistant, having graduated from the Astrodome Career School for Dental Assisting. She is also LVI Global Dental Assisting-certified. She teaches Dental Assisting at the Texas School of Business, where she is also a dental board member. Toni is nitrous oxide- and radiology-certified, and has attended several hours of continuing education in dental assisting and state-of-the-art dentistry from Star of the South Dental Meetings. Her natural ability to make patients feel at ease helps them achieve the good oral health they deserve. She loves the closeness of our team, which is a reflection of Dr. Wolfson as a leader. Toni is the mother to two beautiful daughters and a son, and grandmother to three very active grandkids. She loves to cook, socialize and spend time with family.